Florida Personal Injury Attorney
Championing Justice for the Injured in the Sunshine State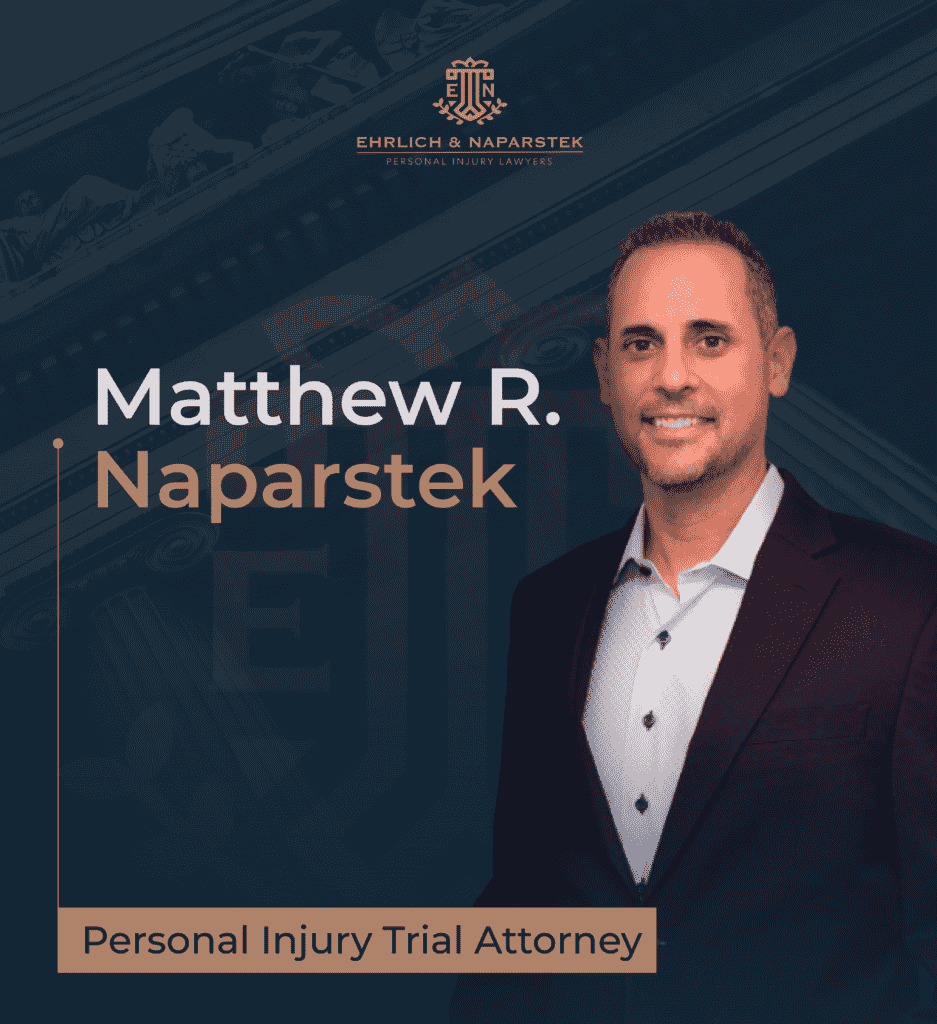 Matthew R. Naparstek is a partner and personal injury trial attorney at Ehrlich & Naparstek with extensive litigation experience as he has tried more than 140 cases to verdict.  Florida Personal Injury Matthew R. Naparstek, an avid cyclist,  fights to recover full compensation for the injured. Matt represents clients in personal injury cases, including slip/trip and falls, automobile accidents, ridesharing accidents, and wrongful death claims with passion and personal attention.  He is dedicated to obtain the best possible results for his clients and he uses his litigation and trial experience to seek justice for the injured. 
Matthew R. Naparstek was born and raised in South Florida, and he graduated from the University of Florida in 2004 with a degree in Finance.  Subsequently, he attended the Florida State University College of Law and graduated a semester early in 2006.
During law school, Matt was approved by the Florida Supreme Court to become a Certified Legal Intern, which permitted him to try cases before graduation.  After graduating from law school, Matt served Palm Beach County as an Assistant State Attorney for nearly 5 years.  As a Felony Division Chief, Mr. Naparstek prosecuted crimes including, homicides, sexual batteries, armed robberies, drug trafficking, and felony DUI's.
From 2011 to 2017, Matt gained valuable experience representing insurance companies in hundreds of personal injury, wrongful death, general liability, and first-property homeowners lawsuits.  Additionally, he served as Outside General Counsel to the Palm Beach County Sheriff's Office prosecuting civil forfeiture cases.
Matt enjoys traveling with his wife and three children, and he is an avid cyclist who you will regularly see on the roadways throughout South Florida.  Matt leads a group of almost 400 bicycle riders who share a passion for the sport of cycling.  Matt is a staunch advocate for bicycle safety.  Contact us to get in touch with Mr. Naparstek.
Matthew operates at the intersection of dedication and legal brilliance. Not only does he practice in both State and Federal Courts in Florida, but he is also affiliated with some of the most esteemed legal organizations in the country. These memberships underscore his commitment to professional growth, ethics, and the highest standards of legal practice. Explore the list below to understand the breadth of his professional network and the caliber of his associations.
United States Supreme Court Bar
United States District Court, Southern District of Florida
Florida Bar
Palm Beach County Bar Association
Palm Beach County Justice Association
Martin County Bar Association Professional Memberships & Awards
Recognized Excellence and Esteemed Affiliations
Matthew R. Naparstek's relentless pursuit of justice and unparalleled expertise in the realm of personal injury law is exemplified not only through his vast case history but also by his esteemed professional memberships and awards. Each accolade and affiliation is a testament to his dedication, skill, and unwavering commitment to representing his clients with the highest caliber of legal representation. Dive deeper to discover the respected organizations and acknowledgments that further solidify Matthew's reputation as a top-tier attorney in Florida.
Super Lawyers
is a rating service of outstanding lawyers from more than 70 practice areas who have attained a high-degree of peer recognition and professional achievement. The patented selection process includes independent research, peer nominations and peer evaluations. This achievement is only awarded to the top 5% of lawyers in Florida.  Matthew R. Naparstek has been named to this prestigious list in 2022
The National Trial Lawyers: Top 100
This is an invitation-only organization composed of the premier trial lawyers from each state or region who meet stringent qualifications as civil plaintiff trial lawyers. Selection is based on a thorough multi-phase objective and uniformly applied process which includes peer nominations combined with third-party research. Membership is extended only to the select few of the most qualified attorneys from each state or region who demonstrate superior qualifications of leadership, reputation, influence, stature and public profile measured by objective and uniformly applied standards in compliance with state bar and national Rule 4-7. 
Martin County Justice Association
Florida Personal Injury Cases I Handle

Your Pathway to Rightful Compensation
Ehrlich & Naparstek is a distinguished law firm based in Florida, known for its unwavering commitment to the pursuit of justice. Founded by seasoned legal professionals who share a vision of providing exceptional and compassionate representation, the firm specializes in various areas of the law, with a notable emphasis on personal injury cases. Over the years, Ehrlich & Naparstek have built a reputation for meticulously handling each case, ensuring that every client receives personalized attention and the best possible legal strategies tailored to their unique circumstances. The firm combines decades of experience, comprehensive knowledge of Florida's legal landscape, and a deep-rooted passion for advocacy to deliver results that not only meet but often exceed clients' expectations. At Ehrlich & Naparstek, it's not just about winning cases; it's about making a difference in the lives of those they represent.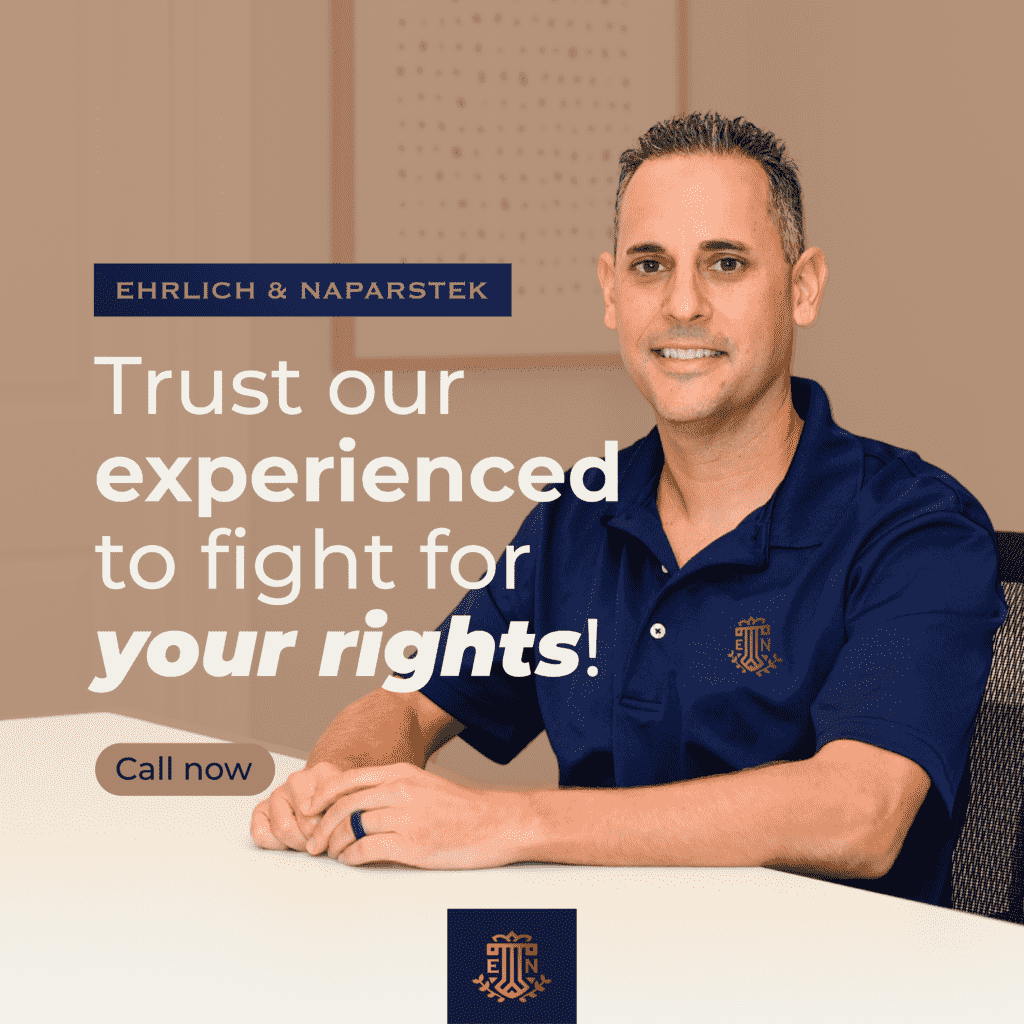 Contact Mattew Naparstek
Reaching Out, Getting Answers
Whether you have questions, need expert legal advice, or are seeking representation for your case, we're here to help. At Ehrlich & Naparstek, we believe in clear communication and personalized attention. Fill out the form below or give us a call, and one of our dedicated team members will get back to you promptly. Your journey towards justice starts with a simple conversation. Let's begin.