PERSONAL INJURY & ACCIDENT CASES WE HANDLE
IF YOU BECOME INJURED, WE CAN HELP
Accident Types In Florida
Ehrlich & Naparstek is a dedicated law firm based in Florida, diligently serving injury victims and ensuring that they receive full and fair compensation. With a passion for aggressive, results-driven representation, combined with a personal touch, we have served thousands of clients over the last 27 years. Our commitment to individualized attention means we treat each client as unique, recognizing that no two cases or results are ever the same.
Located in the heart of Florida, our reach extends throughout the state, prominently serving areas such as Boynton Beach, Port St. Lucie, Stuart, and West Palm Beach. We take pride in being a beacon of hope for the residents of these localities, providing unwavering legal support to those in need. Each community we serve is unique, and we approach every case with the understanding and respect it deserves.
In the diverse and dynamic environment of Florida, especially in cities like Boynton Beach and West Palm Beach, the variety of cases we encounter is vast. From auto accidents in the bustling streets of Port St. Lucie to personal injury claims arising in the serene surroundings of Stuart, our seasoned team is adept at navigating the complexities of the legal landscape to secure the rightful compensation our clients deserve.
Our relentless pursuit of justice has been a cornerstone of our firm's philosophy since its inception, allowing us to make significant strides in the legal realms of Boynton Beach, Port St. Lucie, Stuart, and West Palm Beach. In these regions, we have earned a reputation for our meticulous attention to detail and our unwavering commitment to our clients.
Whether you are a resident of Boynton Beach looking for personalized legal counsel or someone from Stuart seeking fair compensation, our doors at Ehrlich & Naparstek are always open. Our mission remains steadfast: to offer top-notch legal services with a human touch to the residents of Florida, ensuring that every individual who walks through our doors walks out with the justice they deserve.
Latest Case Results
No Fees Unless We Win
$5,775,000
Confidential Settlement
$2,287,500
Slip & Fall Accident
$1,900,000
Workers' Compensation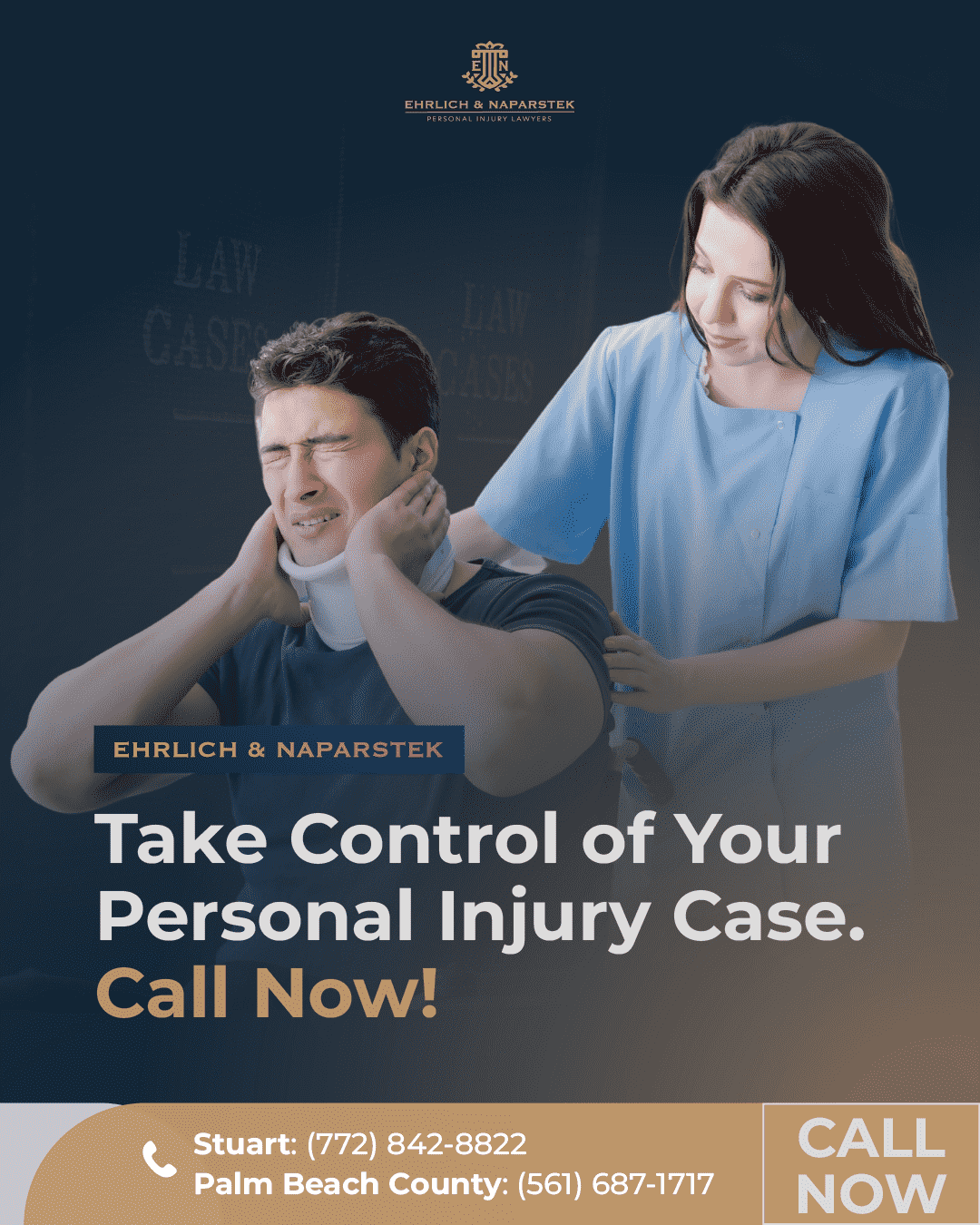 Get A Free Consultation With A Florida Personal Injury Lawyer Today
Step Forward with Our Help!
If you've recently been in an accident, it's normal to feel stressed and uncertain about what to do next. You might be dealing with physical injuries, emotional trauma, and financial burdens that can quickly become overwhelming. During such a difficult time, it's essential to have the support and guidance of a personal injury lawyer that can help you navigate the legal and financial aspects of your situation.
At Ehrlich & Naparstek, we understand the challenges that come with an accident, which is why we're committed to helping our clients through every step of the process. From dealing with insurance companies to negotiating settlements, our experienced team can handle the legal side of things so that you can focus on your recovery and well-being.
We know that missing work and dealing with bills can add to the stress of an already challenging situation. That's why we strive to take as much of the burden off your shoulders as possible, so you can focus on healing and spending time with your loved ones. Our team will work tirelessly to ensure that you receive the compensation you deserve.
If you're ready to take the first steps towards reclaiming your life after an accident, schedule a free case consultation with our Florida personal injury lawyers today. We'll review the details of your case and provide you with the support and guidance you need to move forward with confidence.
Schedule A Free Consultation With A Florida Personal Injury Lawyer
Our Florida Personal Injury Lawyers Are Here To Help Call Us Today
Schedule A Free Consultation With A
Florida Personal Injury Lawyer